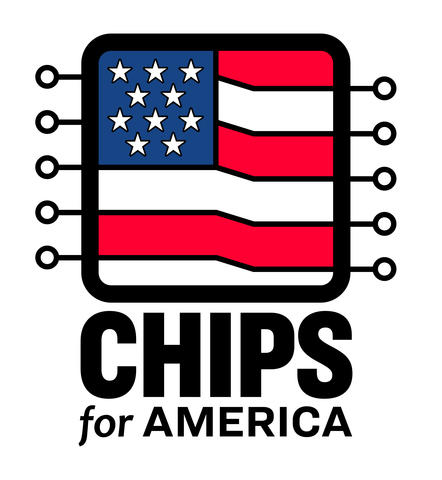 WASHINGTON, D.C. — In remarks to the Industrial Advisory Committee today, Under Secretary of Commerce for Standards and Technology and National Institute of Standards and Technology (NIST) Director Laurie E. Locascio will announce five leaders joining the CHIPS Research and Development Office within CHIPS for America. CHIPS for America was established by historic legislation to bring semiconductor manufacturing back to the U.S. and to solidify the country's leadership in technology and innovation.  
"While the manufacturing incentives of the CHIPS Act will bring semiconductor manufacturing back to the U.S., the CHIPS R&D programs will ensure America's global leadership by creating a robust semiconductor R&D ecosystem," said Secretary of Commerce Gina Raimondo. "These leaders bring exactly the depth and breadth of organizational, programmatic and technical leadership experience that CHIPS needs to stand up new, transformational R&D programs."
"We are building a national R&D ecosystem that will keep our budding semiconductor manufacturing base one of the world's most technologically advanced," said Locascio. "To make the CHIPS R&D programs into bustling centers of innovation, we need the country's best people to execute our vision. These are the experts who will propel CHIPS for America and the nation's semiconductor sector forward." 
The announced CHIPS Research and Development (R&D) Office leaders are:
Lora Weiss, Director 
Eric Lin, Deputy Director 
Neil Alderoty, Executive Officer 
Richard-Duane Chambers, Associate Director for Integration and Policy
Marla Dowell, Director of the CHIPS R&D Metrology Program
CHIPS for America comprises the CHIPS Program Office, responsible for semiconductor incentives, and the CHIPS R&D Office, responsible for four integrated programs that will generate innovations that make American semiconductor manufacturers globally competitive. The four programs are the National Semiconductor Technology Center (NSTC), the National Advanced Packaging Manufacturing Program, up to three new Manufacturing USA institutes dedicated to semiconductors, and the CHIPS R&D Metrology Program.  
CHIPS Research and Development Office Leaders 
Lora Weiss, Director of CHIPS Research and Development
Lora Weiss will serve as the director of the CHIPS R&D Office. Weiss joins the office from Pennsylvania State University, where she serves as senior vice president for research and oversees the research of 12 academic colleges, seven interdisciplinary research institutes, the Applied Research Lab (a university affiliated research center for the Navy), and offices for sponsored programs, research protections, industry partnerships, technology transfer, innovation, economic development and commercialization. Weiss is also president of the Penn State Research Foundation, which catalyzes the commercial translation of research to application. Prior to Penn State, Weiss spent 13 years at Georgia Tech, where most recently she served as senior vice president and director (interim) of the Georgia Tech Research Institute, a university affiliated research center for the Army. Weiss is an accomplished scientist and educator with more than 30 years of experience in higher education. As an expert in robotics and uncrewed systems, Weiss has been advancing the capabilities of uncrewed air, ground, sea surface and undersea vehicles, including human-machine teaming. Weiss received her Ph.D. in acoustics from Penn State, her master's in mathematics from UCLA, and her bachelor's in mathematics from Boston University. 
Eric Lin, Deputy Director of CHIPS Research and Development
After serving as the interim director of CHIPS R&D since September 2022, representing CHIPS nationally and helping to shape its programs, Eric Lin will continue to serve CHIPS as the deputy director of R&D. Previously, Lin was the director of the NIST Material Measurement Laboratory overseeing some 900 staff members and visiting scientists conducting research on the composition, structure and properties of industrial, biological and environmental materials and processes; and developing and disseminating certified reference materials, critically evaluated data and other measurement quality assurance programs. Lin has also served as the acting associate director for Laboratory Programs at NIST. In this role, he provided direction and operational guidance for NIST's scientific and technical laboratories, among other duties. Lin first joined NIST as a National Research Council-NIST postdoctoral associate. As the leader of the Electronics Group, he established research programs in semiconductor electronics processing, nanoscale materials and organic electronics. In 2012, Lin became chief of the Materials Science and Engineering Division. Lin's work has supported important technology areas including advanced manufacturing and advanced electronics, as well as the multi-agency Materials Genome Initiative. Lin has doctoral and master's degrees in chemical engineering from Stanford University. He has a bachelor's degree in chemical engineering from Princeton University. 
Neil Alderoty, Executive Officer for CHIPS Research and Development
Neil Alderoty joins CHIPS R&D as executive officer, overseeing all aspects of operations and finance. Alderoty most recently served as the executive administrator of the NIST Material Measurement Laboratory, where he led all operations including safety, IT, space, personnel, property and finance, and contributed to the organization's strategy. He has served NIST in various roles for more than 30 years, including as acting chief financial officer and acting chief of the Grants and Agreements Management Division. Among his many accomplishments, Alderoty has overseen the development of several software tools that provide NIST's many divisions and groups with more accurate, timely financial information with less administrative burden, and a hazard assessment tool that contributes to improved laboratory safety. In addition, Alderoty led NIST's implementation of the American Recovery and Reinvestment Act of 2009, which allotted $610 million for lab and standards-related research, property maintenance and renovation, and more. He has been recognized with many accolades, including a NIST Bronze and a Department of Commerce Silver Medal, for his work on a team that secured an unqualified opinion on an audit of NIST financial statements, a first among government bureaus. Alderoty has an M.B.A. from Johns Hopkins University and a bachelor's degree in business administration from the State University College at Fredonia in New York.  
Richard-Duane Chambers, Associate Director for Integration and Policy
Richard-Duane Chambers joins CHIPS R&D as the associate director for integration and policy, overseeing policy and strategy coordination, workforce, interagency integration, international relationships, and standards. Chambers joins CHIPS from the Senate Committee on Commerce, Science, and Transportation, where he served as a senior professional staff member, leading staff on the Subcommittee on Space and Science. He advised the committee on decision-making and policy relevant to multiple agencies, including NIST, the National Science Foundation and NASA. Chambers also contributed analysis of semiconductor technology and manufacturing trends to build support for the CHIPS and Science Act, which he helped to draft and negotiate. Chambers previously served as special assistant to the director and chief of staff for the Electronics Resurgence Initiative at the Defense Advanced Research Projects Agency (DARPA). Before that, Chambers was a lead associate at Booz Allen Hamilton, serving as chief of staff to the DARPA Microsystems Technology Office. He was a Mirzayan Science and Technology Policy Fellow at the National Academies of Sciences, Engineering, and Medicine and is a graduate of the Massachusetts Institute of Technology, from which he received a master's degree in technology and policy, and a bachelor's degree in aeronautics and astronautics. 
Marla Dowell, Director of the CHIPS Research and Development Metrology Program
Marla Dowell joins CHIPS R&D as director of the Metrology Program, where she will expand and advance NIST's efforts to deliver a robust measurement science foundation for the semiconductor industry. Most recently, she served as director of the NIST Communications Technology Laboratory, the leading national laboratory for advanced communications standards and measurements. Dowell began her NIST career at as a researcher in the field of optical metrology for photolithography. Her work has enabled better optical measurements for photodynamic therapy to treat cancer, laser safety, communications and manufacturing. Her work fostering collaborations with both private and public sector partners and leading high-performing research organizations has been recognized with numerous awards, including the Department of Commerce Silver Medal, NIST's Allen V. Astin Award, and the Arthur S. Flemming Award from George Washington University. Dowell has represented NIST on national and international standards committees for optics and photonics, as well as external advisory committees for research innovation, photonics and communications. Dowell holds a Ph.D. in physics from the Massachusetts Institute of Technology and an M.B.A. from the University of Colorado at Boulder. Her bachelor's degree in physics is from the University of Michigan.
The CHIPS R&D Office is staffing up with nationally recognized experts while also achieving important milestones. The office recently released the following: 
A publication describing the vision for the National Advanced Packaging Manufacturing Program is expected later this summer. Additional leadership announcements are expected in June. 
link