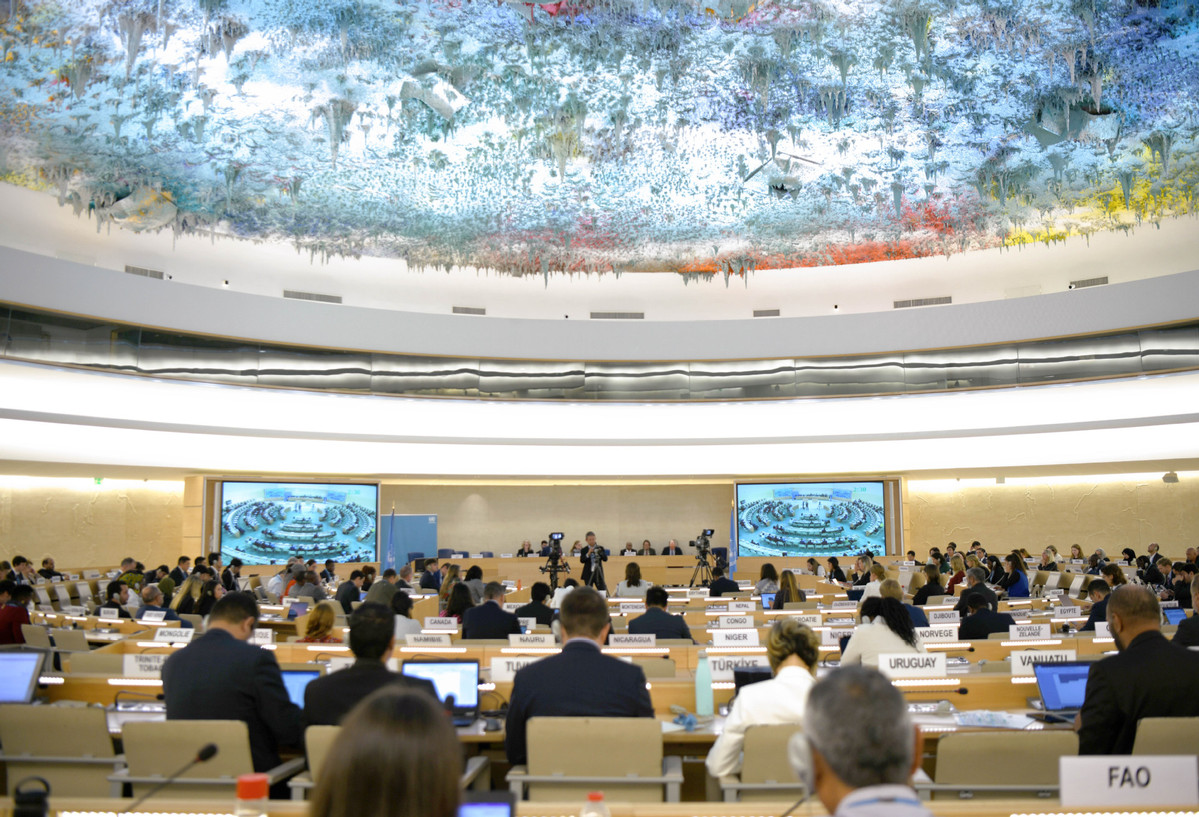 Adopting technological blockades and suppressing other countries" scientific and technological development in the name of "human rights protection" have stripped the right of development, as such actions block people from all over the world from enjoying the fruits of social progress, Chinese human rights experts said.
Science and technology have never had such a profound impact on the happiness and well-being of people, so such behaviors from certain countries need to be watched very carefully by the international community, Bao Liying, a representative of the China Society for Human Rights Studies and a professor at Beijing Institute of Technology, said on Wednesday evening.
She made the remarks during a symposium entitled "Science and Human Rights" on the sidelines of the 54th session of the United Nations Human Rights Council in Geneva, Switzerland.
Wang Fuliang, a researcher at the Science and Human Rights Research Center of the institute, said the development of technology requires the establishment of a win-win mechanism. Any technological hegemony or decoupling under the pretext of human rights protection is a resurgence of old-era protectionism.
"A few Western developed countries, led by the United States, have always sought to establish their own human rights perspective and value system. The unfair, politicized concept of human rights protection primarily aims to seek unilateral benefits through coercive measures. Such selfish practices are contrary to the basic principles of sharing and governing in the era of intelligent technology," Wang said.
The development of technology requires the continuous enhancement of technological exchanges worldwide, and the human rights of people around the world can only be further improved when the scope and depth of cooperation in scientific and technological development continue to expand, he added.
Yang Kuan, an associate professor of the institute's School of Law, said people should also be aware that outer space technologies have played an important role in promoting the sustainable economic and social development of the world.
But the rapid development of space technologies and activities has also brought about problems such as the increased militarization of outer space, the encroachment of outer space resources and the destruction of the outer space environment, posing new challenges to the common security and interests of mankind in outer space, he added.
"All countries should abandon hegemonism in outer space, abide by the principles of maintaining peace and security, and promote outer space activities for the benefit and interest of all humankind, so that outer space technologies and applications can truly contribute to the well-being of all humankind and address common risks," Yang said.
link