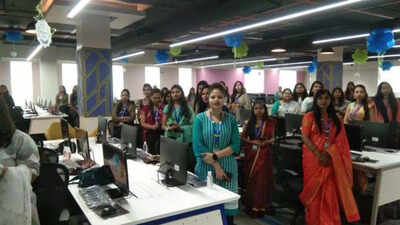 A team of 150, mainly freshers, at Neeyamo's unit here will be developing payroll software and work on allied assignments
NAGPUR: Chennai headquartered Neeyamo, a technology-enabled global payroll and EOR solutions provider, has started what it bills to be the world's first all-women payroll software development centre at Mihan-SEZ here.
The unit here will be catering to mainly Fortune 500 companies. The 150-strong team of mainly freshers will be working in development of payroll software and other allied assignments.
Neeyamo's CEO Rangarajan Seshadri told TOI that there are plans to hike the number to 300 in the coming 10 to 12 months. In the longer term, there are plans to take up land in the Mihan-SEZ and develop a campus, he said.
At present, Neeyamo's centre is located inside the premises of Shapoorji Pallonji's IT Park on lease basis.
Neeyamo is also undergoing a due diligence process for private equity investment. Presently, the stake is held between promoters and employees. The employees have close to 10% and the rest is held by five promoters.
It is being considered to raise around $100 million, which may also go up to $200 million if 20% stake is given up. There are plans to offload 10% to 20% stake for getting the funds depending on the proposal, said Seshadri.
A company of 3,000 workers in all, the centre at Nagpur is its fourth unit in the country. The other centres are at Chennai, Pune and Madurai apart from two global units in Philippines and Mexico. The company plans to start two units each in Egypt and Poland too, said Seshadri.
Seshadri says Neeyamo's claim of being the only all-women product development centre is based on its own research of the industry. "Even otherwise, the company is a women heavy organization with 52% of women staff," he said.
"We wanted to set an example by coming up with an all-women centre. Nagpur was chosen because I was earlier involved in setting up of Hexaware Technologies unit in Mihan itself," said Neeyamo chairman Ashok Bildikar.
Moreover, the company feels women are more suited to HR-related job, including software development, he said.
Seshadri said the company specializes in developing salary computation software which it came up with in 2012. "It is mainly meant for large enterprises which is the reason most of the clientele are Fortune 500 companies," he said.
The company is now looking for manpower in the Tier-II cities where it sees best grade talent for its kind of operations. Moreover, the future expansion would be in smaller cities only, said Seshadri.
FOLLOW US ON SOCIAL MEDIA
FacebookTwitterInstagramKOO APPYOUTUBE

link