Becoming the Silicon Valley of the Northeast may have as much power as the computer chips that will soon be designed and developed in the upstate New York region.
The recent Chips 101 event, hosted by Rochester Institute of Technology's Government and Community Relations on Nov. 16 at the university, kept to that premise. More than 50 regional government and corporate representatives learned how computer chips are designed and manufactured—and how universities, government, and workforce development initiatives will contribute to this area becoming a major U.S. resource in the end-to-end process of producing and assembling computer chips for consumer devices, such as cell phones.
At RIT, undergraduate students are learning how to produce computer chips; at other universities, students are seeing this process for the first time in graduate school. Workforce training for corporations and veterans is also being done extensively at RIT, where participants are immediately finding entry- and mid-level positions, and regular training in advanced electronic assembly processing is taking place for students and companies.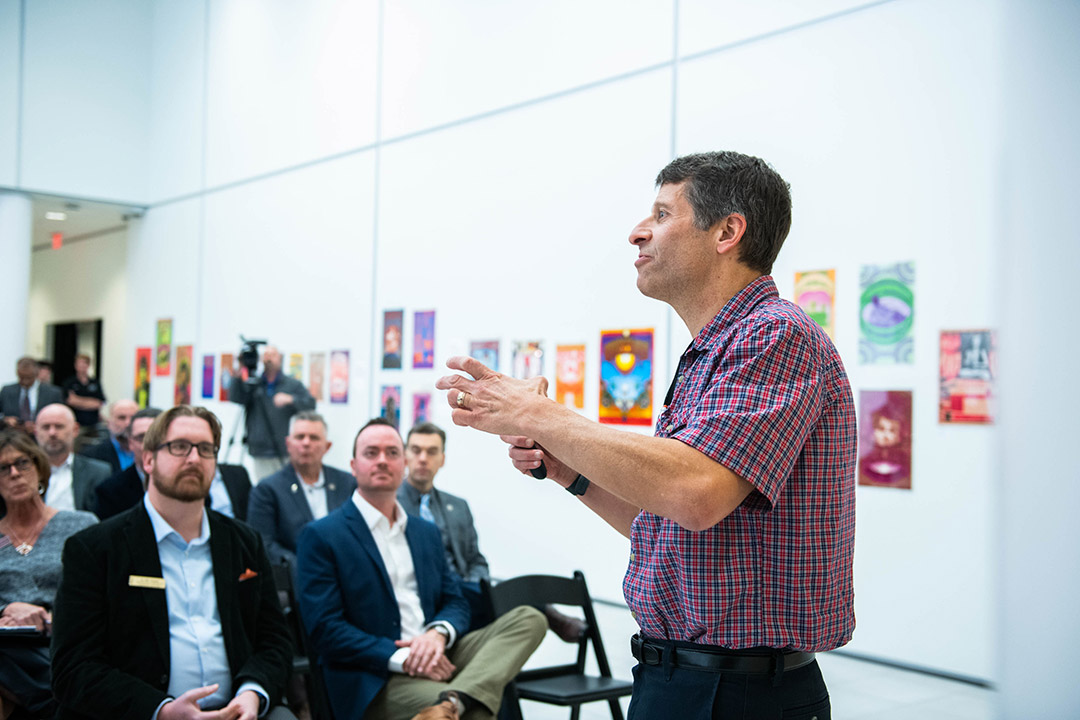 ‌
Gabrielle Plucknette-DeVito
Visitors at the event learned much about the fast-moving industry, including a misconception that computer chips are only produced overseas. Southeast Asia is a dominating force, and U.S. initiatives are focused on catching up and surpassing production. There are numerous fabrication facilities across the U.S. and more are planned, but challenges to increase production are in time and resources. Today's products require more transistors to ensure the highest speeds and processing power for multiple, inter-related functions.
"It is amazing just how small the form factor is, yet how thin and delicate these structures are. There are more components on the chip that need to communicate together. But better communication means better devices," said Karl Hirschman, professor and director of the microelectronic engineering program in RIT's Kate Gleason College of Engineering.
It takes three months to make computer chips. In 1971, 2,300 transistors were used for devices. In 2004, more than 125 million were used, "which is relatively old compared to today's technology where billions may be used for integrated circuits. And this trend is increasing upward," Hirschman explained.
Chips are vastly smaller — 20 to 30 nanometers, which is one billionth of a meter — but far more powerful, often stacked in confined spaces with specialty functions such as memory or imaging interfaces, for example.
Micron Technology, one of the top producers of computer memory chips, recently announced a major investment in central New York that will enhance an ecosystem that includes the manufacturing required and necessary supply chain resources.
"What makes a fab special is its people, and that is the reason we are here. Semiconductor companies build near other fabrication centers. The supply chain will continue to grow," said Carson Henry, senior director, U.S. Expansion Strategic Program Management. He oversees the development of two new and extensive fabrication facilities in the U.S. "Everyone has something to contribute, and this area has a rich talent pipeline."
Upstate New York's ecosystem of universities and a rich talent pipeline, the imaging and optics industries established in the region, and natural resources are keys to the decision to invest in the region.
Producing chips is one part of the extensive equation to put chips into devices. Another entails the extensive workforce talent needed to assemble chips onto circuit boards for products.
Not only are more chips needed, but the assembly process for the circuit boards that go into the broad range of devices and systems is intensifying, said Martin Anselm, associate professor of mechanical engineering technology in RIT's College of Engineering Technology. He also is director of CEMA—RIT's Center for Electronic Manufacturing and Assembly.
"We have a hand in all the different processes from designing computer chips to circuit boards to final products. CEMA is equipped with a manufacturing line you could find anywhere in the world, and many of our graduates can be found in the semiconductor industry furthering their overall manufacturing process," Anselm explained. "We are teaching every step in the process."
link