Digital literacy is an essential pillar of closing the digital divide, especially after the pandemic, which forced many essential services online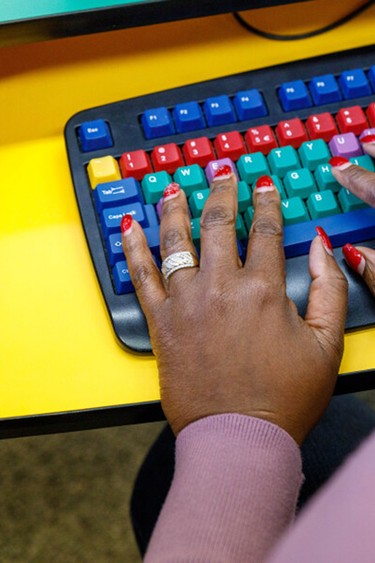 Article content
Being connected to the internet is more important now than it ever has been. Canadians need a reliable, high-speed connection for school, work and just about everything to do with their daily lives. But, as Canadians come to enjoy ever faster upload and download speeds, many still don't have access to even the most basic internet service. From rural and Indigenous Canadians suffering from a lack of infrastructure and low-income people struggling to afford high prices, to digital illiteracy and people with disabilities unable to navigate an inaccessible internet, Jessica Mundie reports on the Canadians who have been Left Behind.
Article content
Before the pandemic, staff of the Chinook Arch Regional Library System noticed a strong need emerging within the communities they serve.
Library users were asking for help with digital technology — including computers, mobile devices, and using the internet.
Many of the libraries within the Chinook Arch system, which includes 33 locations in southern Alberta, are small and rural. Lisa Weekes, associate director of the system, said they just did not have the capacity to teach digital literacy skills to their community members.
"We needed a coordinated effort throughout the region," she said.
So, after securing a $438,800 grant from the Digital Literacy Exchange Program through Innovation, Science, and Economic Development Canada, the library's Fundamental Digital Literacy Skills Program was born.
Article content
The program had a distinct focus: to deliver fundamental digital skills training to increase participation in the digital economy.
Digital literacy has recently emerged as an important aspect of digital equity and an essential pillar of closing the digital divide, especially after the pandemic, which forced many essential services online. As our world becomes more and more digital, certain communities that lack the important skills to use digital technologies are being left behind.
The first principle of Canada's Digital Charter declares, under the topic of universal access, that "all Canadians will have equal opportunity to participate in the digital world and the necessary tools to do so, including access, connectivity, literacy, and skills." While connecting Canadians to reliable and affordable internet access is essential, it is also important that they know how to use it in ways that benefit them.
Article content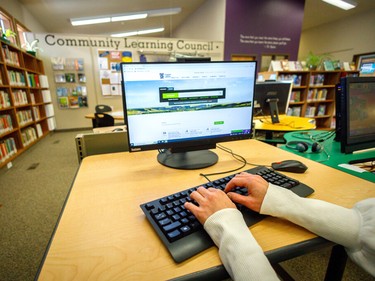 These are skills that may often be taken for granted, like being able to use email or Facebook to connect with family or using government websites to apply for benefits. They can also be as simple as operating a computer or an external hard drive.
There are many organizations across the country, like the Chinook Arch Regional Library System, that are leading in digital literacy education and bringing these groups, especially seniors, newcomers to Canada, Indigenous and First Nations communities, and youth, into the digital world at their own pace.
The Fundamental Digital Literacy Skills Program ran in Chinook Arch libraries from January 2019 to March 2022. It offered seven classes, ranging from introduction to computers, to using cloud computing, to understanding digital media like online shopping, website reliability, and online banking.
Article content
Over the three years, it served 679 participants and offered over 353 classes.
When the pandemic hit classes moved online, which Weekes said helped the library reach people that would not have otherwise been able to make it to in-person classes.
During the development of the program, Weekes said they were mindful of the fact that many people interested in the program — who happened to be mostly seniors but also included newcomers to Canada, people with disabilities, and those from Indigenous communities — had almost no exposure to computers or had a fear of technology because of various bad experiences.
"I wanted to personalize the program and bring it right back to basics so that everyone felt comfortable," she said.
Article content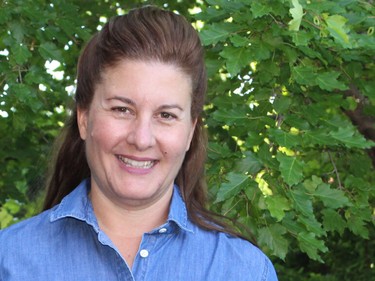 In the end, Weekes said the communities that were the most reluctant to take on this program became some of its greatest advocates because of the benefits they saw in the development of their digital journeys.
Digital literacy is a broad term but includes "the ability to both access and make use of digital technology," said Michel Mersereau, instructor in the University of Toronto's faculty of information and consultant for the city of Toronto where he provides policy guidance on the topic of digital equity.
The pressure being placed on individuals to develop digital competencies and skills predated the pandemic, said Mersereau, but COVID helped exasperate the need. This is why we are seeing more people with the desire to become digitally active, he said.
Article content
"I think it's important to ask what people are not able to do without digital access," said Mersereau. "It has become increasingly difficult for people to engage with government and various essential services."
When researching the ways internet-based technology is used by residents of Toronto's Native Men's Residence and Toronto Community Housing tenants, Mersereau said he found it incredible to see the ways that communities come together to support each other and help each other acquire digital skills.
He said in the Native Men's Residence, there was usually someone in this community who is the "tech guy" that members go to for help with their devices.
"They are all very aware of the need to be online, in some way, shape, or form," said Mersereau.
Article content
With older adults, however, Mersereau said he found they have to see how digital technology can benefit them before realizing the need for it.
For example, in Toronto Community Housing, he said it was common for someone to notice their neighbour down the hall getting their groceries delivered and then ask how they might be able to also get this service. Once this connection is made, Mersereau said it is not hard to get these communities enthusiastically engaged in technology.
In Montreal, the Atwater Library and Computer Centre has been offering digital literacy programs and services to its community members for 15 years. It has worked with over 75 partner organizations and schools and more than 5,500 learners between the ages of six to 96.
Article content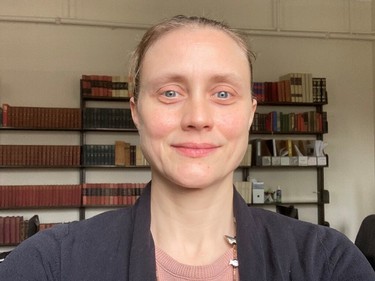 Liz Perrin, the coordinator for the library's digital literacy CONNECT Project, said they offer hands-on workshops on relevant topics, such as demystifying the QR code or how to use Zoom, as well as a two-hour-long peer café which meets online and provides a space for participants to talk about their technical issues.
"I like to think of it as sort of a group troubleshooting," said Perrin. "Sometimes it's just about commiserating, nobody knows the answer, but it's helpful to know that you're not the only person."
The goal of the digital literacy programs run through the Atwater Library is to empower people to take control of their digital life, in whatever way they want to participate, said Perrin.
When looking at demographics, Perrin said these programs have been accessed predominantly by English-speaking women over the age of 65.
Article content
In working with older adults on these digital literacy programs, Eric Craven, community development librarian at the Atwater Library, said he has noticed they have transferable knowledge that can aid them in their understanding of technology.
For example, Craven said there was a discussion in one of the workshops about signing up for online newsletters and participants were wary about signing their name because they had lived through the McCarthy era.
"They were kind of right," said Craven. "That's a really good instinct to have when it comes to online safety."
In a survey of Ottawa Community Housing tenants, National Capital FreeNet, a not-for-profit internet service provider, found that 32 per cent of respondents were either somewhat or not at all comfortable using the internet. When asked if they have been taught how to stay safe online, 62 per cent said they haven't.
Article content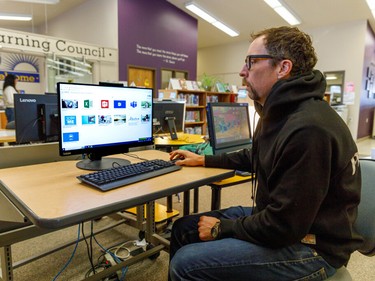 Since the pandemic, online scams have been on the rise with people working from home and using the internet more often. According to Statistics Canada's Internet Use Survey, in 2020, 58 per cent of Canadians reported a cyber security incident. This was up six per cent from 2018.
Having access to digital skills training, like Atwater's peer cafes or Chinook Arch's online privacy class, can help people to identify online risks and prevent them from happening.
HelpAge Canada, a charity aimed at improving the lives of older Canadians and their communities, has been addressing the barrier to technology as well as digital literacy through the Dig-IT program, which provides tablets, digital education, and technical support to low-income seniors.
Article content
Participants are given workbooks and video lessons to further their education and have the support of a program volunteer who helps them along the way, said Nicole Perry, director of national programs for HelpAge Canada.
The charity also runs Connected Elders and Youth; a program in Nunavut that has Indigenous youth teaching Elders digital skills. Perry said HelpAge provides the technology as well as teaching resources in English and Inuktitut, an Indigenous language spoken in the north.
Both HelpAge programs are building essential skills that are foundational for using devices and the internet as well as teaching the application of this knowledge in everyday life, said Perry. This means focusing on skills like communicating with others online, searching for and evaluating important health and civic information, joining virtual programming, and finding enjoyment from using technology.
Article content
What we try to do is meet people where they're at in that journey

Nicole Perry
"The best way to help someone build digital skills is entirely personal," said Perry. "So, what we try to do is meet people where they're at in that journey."
On the other end of the age spectrum, Juliet Waters, founder and chief learning officer at Canadian charity Digital Moment, has been teaching young people digital skills, like coding, data literacy, and artificial intelligence, for almost 10 years.
Since 2013, Digital Moment has reached over 475,000 young people – 54 per cent being girls. Waters said she tries to target spaces where she can encourage girls to involve themselves in these types of digital skills as there have been historically fewer women in science, technology, engineering, and mathematics jobs.
Article content
During a recent workshop with girls from Canada's northern communities held at FabLab Onaki, an Indigenous space in Ottawa where people can go to learn and develop digital skills, participants explored the world of artificial intelligence and coding.
Each participant developed a project — these ranged from online calculators to video games to 3D printing — using the skills they were taught throughout the workshop. Skills that they may one day use to get a job, said Waters.
Waters said she does not view digital literacy education as very different from learning other basic skills, like reading or mathematics. The more someone wants to learn these skills and can see a use for them in their lives, the more they will be interested in committing to them.
Article content
"Education has been the great mobilizer of equity and empowerment," said Waters. "And digital literacy is no different."
Jessica Mundie is the ninth recipient of Postmedia's Michelle Lang Fellowship, named for the award-winning Calgary Herald reporter who was killed in 2009 while on assignment in Kandahar, Afghanistan. She was the first Canadian journalist to die in the war in Afghanistan. Fellows spend one year on a project of social significance and contribute daily reporting to Postmedia news sites. Mundie undertook her project after completing a Master of Science degree at the Columbia University Graduate School of Journalism. She has also contributed to publications including Religion News Service, the Washington Post and Associated Press.
Read more from the Left Behind series
Inaccessible, unreliable, unaffordable: The struggle to get internet in rural Canada
Many Canadians struggle to afford pricey high-speed home internet in urban areas
Many Indigenous communities lack internet infrastructure. Some are building it themselves
link