The money includes $1.8 million for the creation of a digital health technology development and validation centre at the University of Alberta.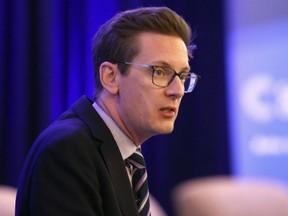 Article content
The Alberta government says it is providing just over $13 million to support emerging technology companies, including one that is pledging to build a new digital health centre at the University of Alberta.
Technology and Innovation Minister Nate Glubish made the announcement on Tuesday, saying it showed Alberta remains among Canada's tech leaders.
Article content
"Alberta continues to have great momentum, and relative to the rest of the country, we continue to do really well," he said of the funding.
Article content
"(It) is going to continue to help maintain that momentum by ensuring that more and more great research projects coming out of our post-secondary institutions can commercialize, can transition from research projects into full companies, and ultimately to serving real customers and selling real technology."
The money comes from Alberta Innovates' ecosystem development partnership program and will be spread across 19 partners.
That includes $1.8 million devoted to Smart Technology Innovations, which has said it will use the funds to create "a cluster for digital and health technology product development and validation" at the U of A.
Alberta to explore rebooting interactive digital media tax credit

Startups from Alberta's business accelerator program create 118 jobs in rising tech industry
link